Click to watch the videos below
In August 2017, Benfica Foundation showed to RUTIS (Network of senior universities, U3A) a new sports project for seniors, the walking football. From the beginning, RUTIS found the idea attractive and that it would have enormous potential among senior universities. Our instinct did not fail us, and when on October 17, 2017, we presented the "Walking football" project at the RUTIS Principal Meeting, the adhesion by U3A was immediate.
The first step was a training session for future coaches/managers/athletes at Estádio da Luz on February 20, 2018. Then, in a regional tournament, the first kick-off took place on May 11 at Estádio Municipal de Almeirim, followed by Coimbra, Oeiras, and Miranda do Douro matches. On June 21, at Benfica Stadium in Lisboa (Estádio da Luz), the final tournament took place with 213 athletes and 45 technical team members. Every year the last match is in Benfica Stadium.
The reasons for the excellent adherence of seniors to this new modality, and in last season 26 teams participated from south to north of Portugal, are essentially three:
It's fun. Any activity (sports, training, cultural) done for seniors (or any other group) has to be fun, otherwise it hardly works. And playing football is fun, whether it's running or walking. Participating in tournaments with other teams all over the country is equally fun and an excellent time for socializing and sportsmanship. Many athletes, especially the ladies, had never played football before, bringing them a new and relaxed experience.
It's healthy. The teams train between 2 and 3 times weekly for about an hour. It is remarkable to see some players' development later in terms of coordination, resistance, visual and spatial acuity, and orientation. The results were more visible in women and older people, with general health and physical capacity gains.
Group and team spirit: For many athletes, this is the first time they are effectively part of a sports team. And they are going to training, wearing a kit, having a coach, teammates and opponents, playing in regional and national tournaments, receiving medals, greeting the referees and listening to friends call for them.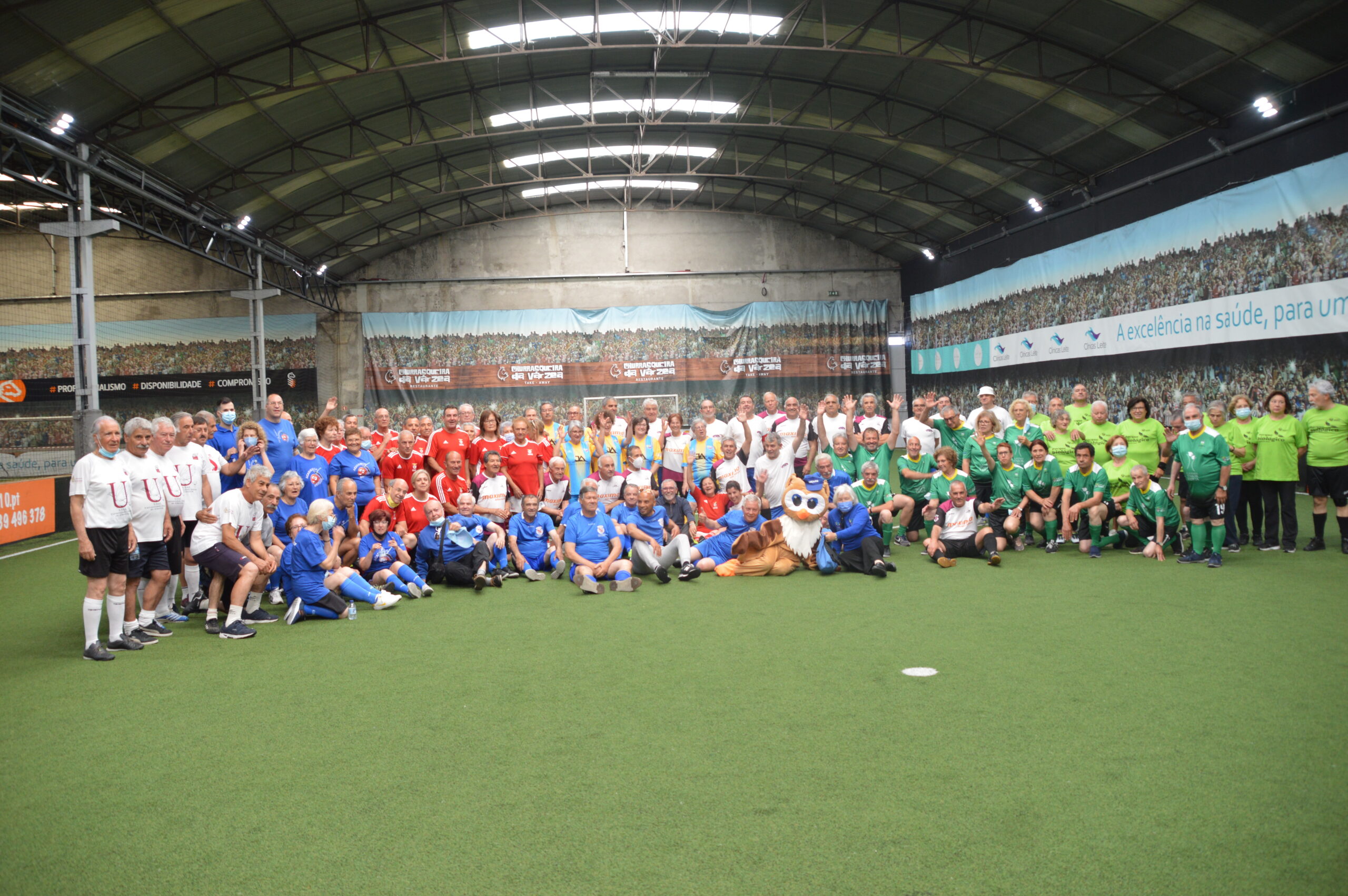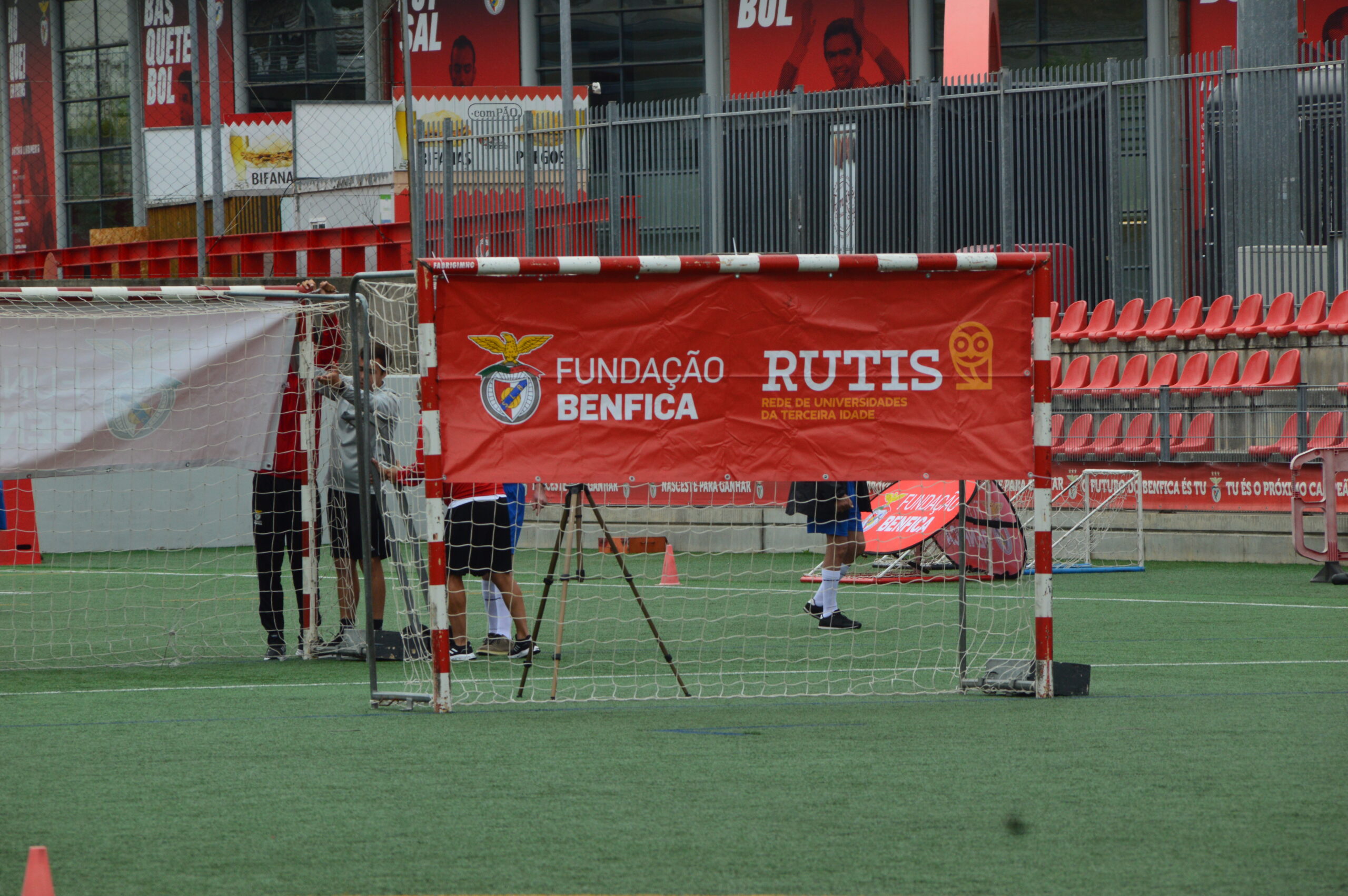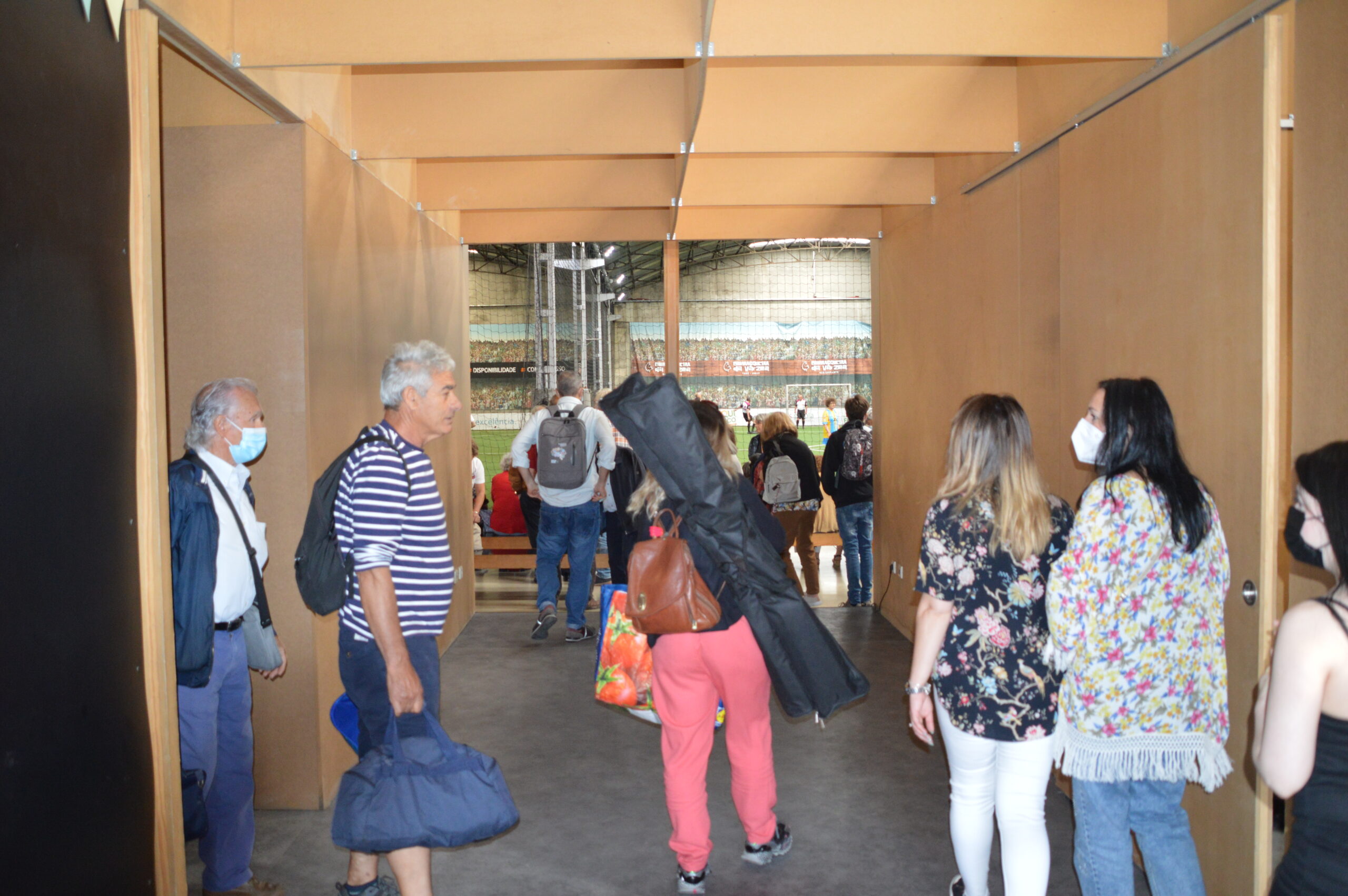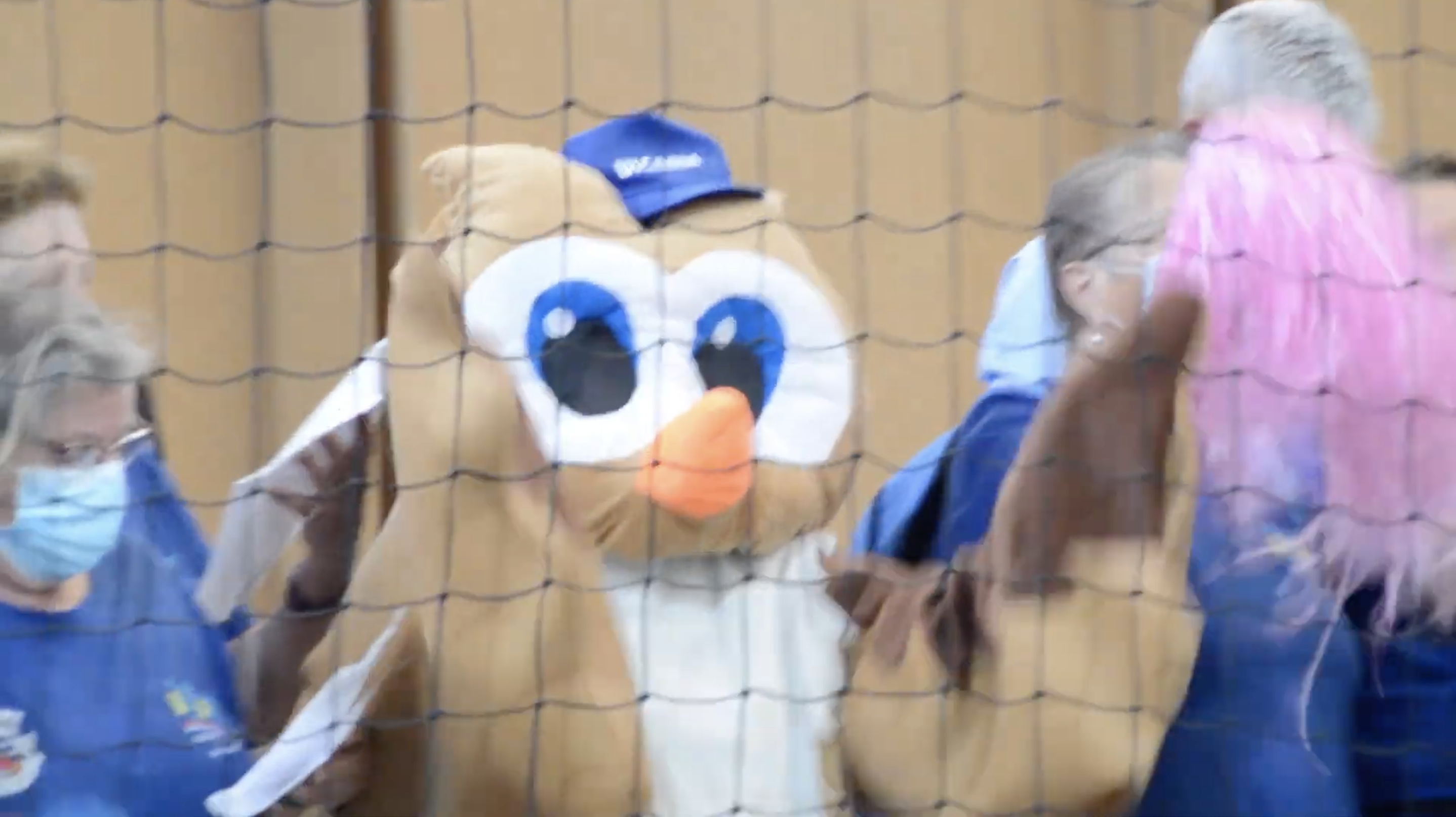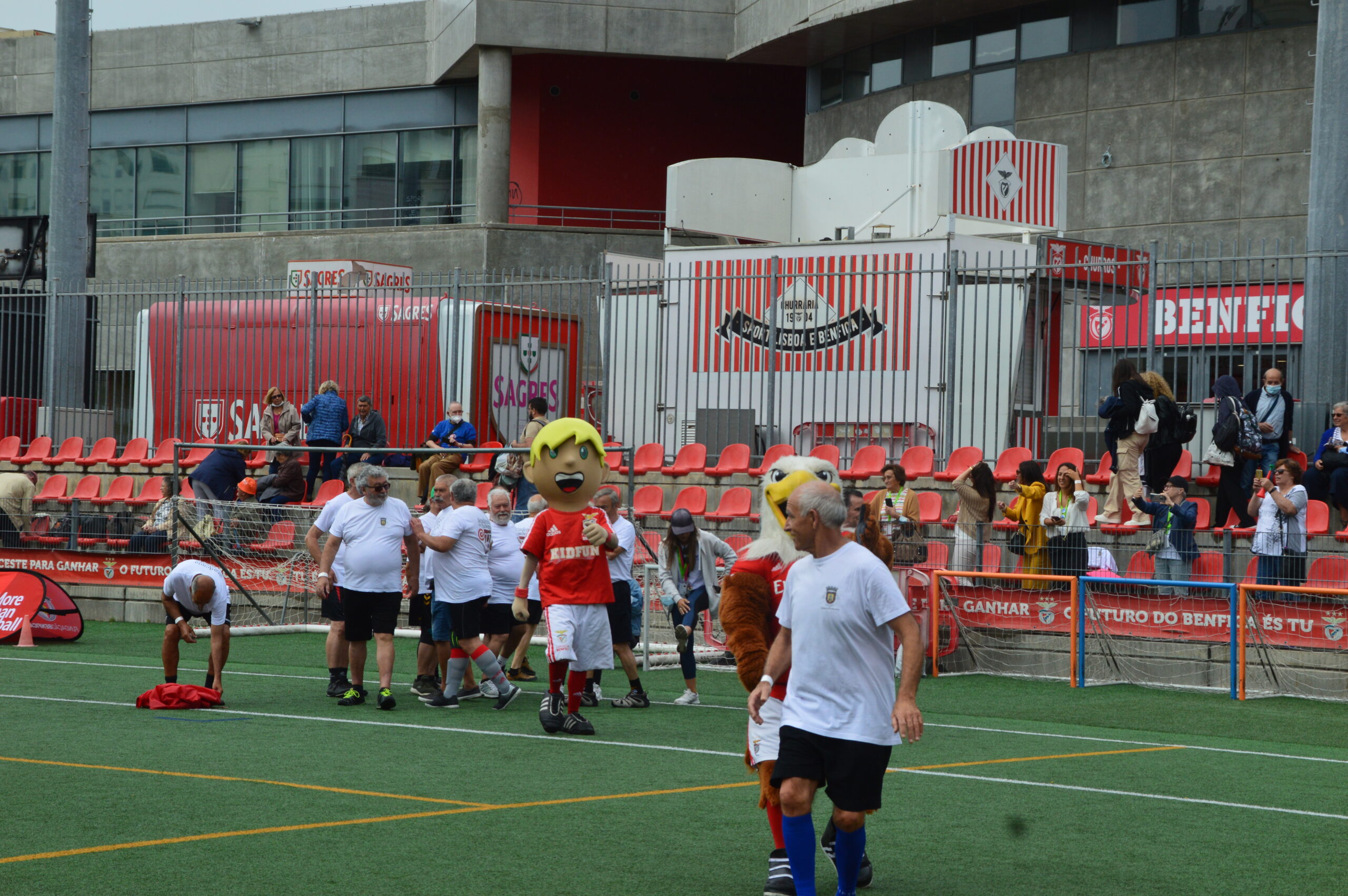 The objective of RUTIS and Fundação Benfica is to take this sport to more and more seniors across the country, whether senior universities or not.
Here is a summary of the rules of "football on the move":
Walking football is a variant of football for people over 50 years old, where you can't run, just walk.
The teams have six field players, preferably of both sexes;
There is no goalkeeper;
The field used is similar to the futsal field (indoor or outdoor);
The goals are 3m x 1m, (usually is used a ribbon or a band is to adapt the standard goals to this sport);
The ball cannot rise above 1 meter tall;
No division by age; teams have players from 50 to 100 years old.
The organization of teams, games and the National Tournament is in charge of RUTIS and FB, with Masterfoot (arbitration) and IPDJ (Portuguese Sport Institution) support.
Teams can have from 6 to 22 elements, and the registration of teams and tournaments is free.
There are two types of teams:
Competitive: For teams with more athletic and technical power.
Playful: For teams with a slower pace and less experienced.
Teams can register for tournaments in the Competitive, Playful or both modalities. Every year at the beginning of October, there is a training/information session at Benfica facilities in Lisbon for coaches/coaches/team managers, given by FB.
There is also a technical manual to support those responsible for the teams. Each team will play with the same equipment (shirt, shorts and socks). In addition, RUTIS give some equipment and balls to the news teams.
More information at www.walking football.pt and in this flyer.
Register your team here.